Homes in Parker, Colorado
The city of Parker was founded in 1864 during Colorado's Gold Rush days. The community's historic main street features a wide variety of shops and restaurants, and the Parker Arts and Cultural Center hosts art exhibits, classes, theater productions, the Parker Symphony Orchestra, and more. The community's civic leaders are dedicated to providing residents with engaging resources that enhance Parker's hometown feel.

Homeowners here enjoy swimming pools, a wonderful fitness center, lots of open space, numerous parks and trails, and a variety of community events throughout the year. Parker has a great location in Douglas County in addition to highly regarded schools. Parker is convenient to all of the metro area's excellent amenities and just minutes away from beautiful golf courses and Castlewood Canyon State Park. Parker truly enriches the lives of its residents.
List of Zipcodes
| Zip Code | Zip Code Name | Zip Code Population |
| --- | --- | --- |
| 80108 | Castle Pines | 30,595 |
| 80134 | Parker | 75,123 |
| 80138 | Parker | 35,190 |
Demographics
| | Zip Code | City | County | State | National |
| --- | --- | --- | --- | --- | --- |
| Population | 4,270 | 60,019 | 351,154 | 5,759,582 | 331,426,769 |
| Population Density | 49.4 | 2,800.7 | 1,167.0 | 55.5 | 93.8 |
| Percent Male | 49.0% | 50.0% | 50.0% | 49.0% | 49.0% |
| Percent Female | 51.0% | 50.0% | 50.0% | 51.0% | 51.0% |
| Median Age | 50.8 | 36.9 | 41.0 | 40.2 | 39.0 |
| People per Household | 2.6 | 2.8 | 2.9 | 2.8 | 2.6 |
| Median Household Income | $106,904 | $110,970 | $114,156 | $115,942 | $61,963 |
| Average Income per Capital | $52,013 | $44,005 | $61,155 | $50,725 | $33,235 |
Market Data
| | Zip Code | City | County | State | National |
| --- | --- | --- | --- | --- | --- |
| Median Sale Price | $725,000 | $498,100 | $550,500 | $425,100 | $277,796 |
| Median Age of Home | 37.0 | 32.0 | 33.0 | 39.0 | 49.0 |
| Homes Owned | 86.0% | 76.0% | 77.0% | 67.0% | 58.0% |
| Homes Rented | 10.0% | 21.0% | 18.0% | 23.0% | 31.0% |
| Homes Vacant | 5.0% | 3.0% | 4.0% | 4.0% | 11.0% |
Market Trend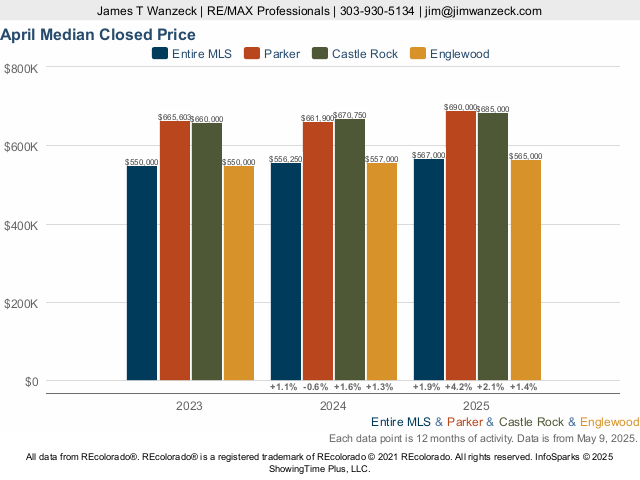 395 properties on market
Contact Us
RE/MAX Professionals
6020 Greenwood Plaza Boulevard
Greenwood Village, CO 80111, USA
Valuation Index
Quality of Life - 90%
Climate & Environment - 75%
Schools & Education - 73%
Safety & Crime - 17%
Quality of Life
| | Zip Code | City | County | State | National |
| --- | --- | --- | --- | --- | --- |
| Cost of Living Index | 110.0 | 115.0 | 116.0 | 110.0 | 100.0 |
| Health Cost Index | 121.0 | 123.0 | 124.0 | 119.0 | 100.0 |
| Commute Time | 25.0 | 27.0 | 27.0 | 25.0 | 24.8 |
| Commuting by Bus | 0% | 1.0% | 2.0% | 1.2% | 2.1% |
| Commuting by Carpool | 7.0% | 10.0% | 8.0% | 11.0% | 13.5% |
| Commuting by Auto | 76.0% | 82.0% | 83.0% | 80.0% | 79.1% |
| Working at Home | 16.0% | 7.0% | 7.0% | 5.2% | 4.7% |
Walk Score®
Climate & Environment
| | Zip Code | City | County | State | National |
| --- | --- | --- | --- | --- | --- |
| January Average Low Temperature | 13.6 °F | 17.8 °F | 15.9 °F | 13.7 °F | 22.6 °F |
| July Average High Temperature | 84.0 °F | 85.4 °F | 89.5 °F | 77.5 °F | 86.1 °F |
| Annual Precipitation (inch) | 17 in. | 15 in. | 18 in. | 19 in. | 38 in. |
Schools & Education
Safety & Crime
Zip Code
City
County
State
National

Violent Crimes

Calculated annually per 100,000 residents

Assault
162.9
206.1
69.5
246.3
250.2
Murder
2.2
2.3
2.2
3.8
5.0
Rape
70.4
68.2
33.6
67.2
42.6
Robbery
123.3
113.4
19.2
63.6
81.6

Property Crimes

Calculated annually per 100,000 residents

Burglary
223.7
218.9
230.1
348.4
340.5
Theft
360.4
922.8
1,794.6
1,858.3
1,549.5
Motor Vehicle Theft
603.0
1,711.4
88.7
384.0
219.9
Take a photo of this QR code
to keep this website details